7+

business days starting at

$5.99

6

business days starting at

$6.99

4-5

business days starting at

$9.99

3

business days starting at

$12.99

2

business days starting at

$14.99

next

business day starting at

$16.99

one

hour starting at

$19.99
Bulk discounts available. Check Pricing for Details
Pricing above is for light garments only, for darks check pricesheet.
Barista Championship 2017 T-shirts in Franklin Park, IL
Two of my coworkers, Jose and Patrick, competed in a district-wide Barista Championship on Thursday, June 29th at the Starbucks location in Franklin Park. The week before the competition, my manager and I got the idea that it would be great to make t-shirts and attend the competition to support our coworkers in this endeavor. My coworkers that competed, as well as myself, are passionate Starbucks baristas and have a great love of coffee and latte art. We enjoy crafting delicious and beautiful beverages that taste right, and look phenomenal to boot! The barista that wins from June 29th goes on to compete in Area, then Regional, then Country-wide Barista Championship for the ultimate title of Barista Champion for all of U.S. Starbucks stores. We're so proud of our team! And who knows if our extra support helped – Jose WON the competition on the 29th! So he gets to compete in August at the Wrigleyville Starbucks Reserve store location.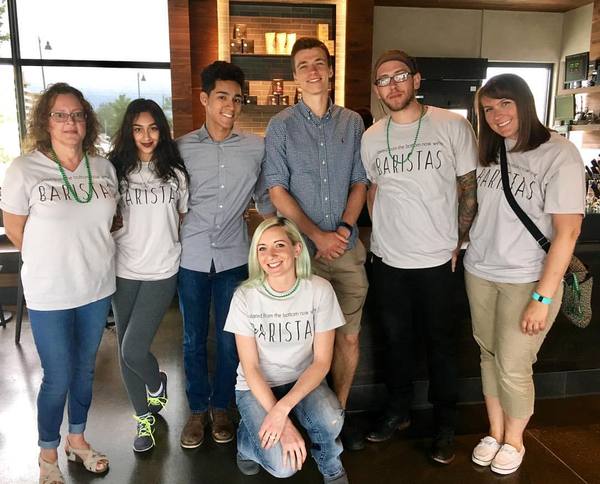 One Hour Tees was fantastic to work with!! I had an extremely tight turn-around and they delivered on shirt quality and customer service throughout the entire ordering process! My rep Elisa was very timely and responsive to my questions via email as well as the phone call follow-ups to make sure the t-shirts turned out awesome. I liked the level of detail provided and the overall approval process of the invoice, emails, and t-shirt proofs before printing items. Additionally, the t-shirt color was very true to the color swatch online. The night before the event I arrived at the office to pick up my shirts at 6:05pm (normally closes at 6pm) and staff was still there and they let me pick up my shirts for the competition the next day. So very thankful! I will definitely be printing t-shirts with you again, as the experience was thorough, fast, and convenient – Plus your inventory is huge with various colors and types of shirts. Thanks One Hour Tees for helping us add extra flair to the Barista competition!
-Starbucks