7+

business days starting at

$7.99

6

business days starting at

$9.99

4-5

business days starting at

$11.99

3

business days starting at

$14.99

2

business days starting at

$16.99

next

business day starting at

$18.99

one

hour starting at

$21.99
Bulk discounts available. Check Pricing for Details
Pricing above is for light garments only, for darks check pricesheet.
Best Things to Do For a Bachelorette Party in Nashville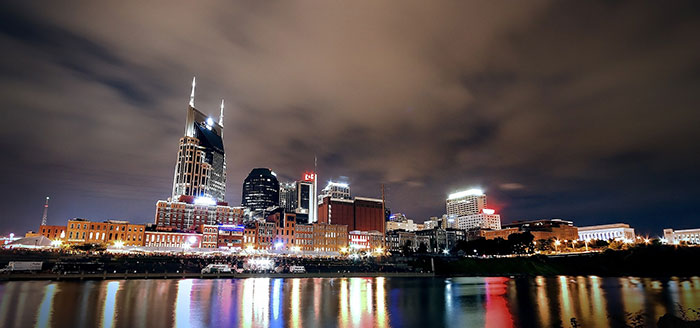 There's no better city than Nashville when it comes to bachelorette parties.
While many women will insist on Las Vegas or the Miami equivalent, those in the know choose Nashville for its culture, vibrant nightlife, and a plethora of fun things to do after the sun goes down.
Nashville is sometimes referred to as "A drinking town with a music problem" by the locals, and it's easy to see why. There are a plethora of bars, bistros, beer gardens, alehouses, and craft beer breweries to choose from. Oh yeah, there's country music as well.
One of the biggest reasons brides-to-be choose Nashville is for the country music. Once you and your girls put on your custom bachelorette party t-shirts, it's time to kick up your heels for a night of fun and celebration in Music City!
Alcohol Considerations
In case you heard rumors or were wondering, the great state of Tennessee has what locals refer to as "dry counties" in which alcohol cannot be served nor purchased.
Fortunately, alcohol is permitted, served, and sold in Nashville. A bonus is that last call is at 3 am (instead of 2 am in most states). We're not suggesting that alcohol is a requirement to have a kick-ass bachelorette party, but it certainly can't hurt.
We've compiled a list of our top five bachelorette party destinations in Nashville. It will be a night to remember for the bride-to-be and everyone in her bridal party.
Boozy Brunch at Morph Hospitality Group
No trip to Nashville is complete until the entire group has sampled traditional southern chicken and down south cuisine.
To that point, the Boozy Brunch is THE place to be in Nashville. It has a menu that rivals some of the top kitchens in L.A. or N.Y. yet at the same time, it serves down-home Southern comfort food that can't be beaten.
Boozy Brunch makes for great morning-after food after a night of hard partying. Wake up to a Southern breakfast or sample some champagne to lessen that hangover and take the edge off the morning.
Geist
Geist is a neighborhood bar and restaurant and one of the newer establishments in Nashville. It's located in a renovated 18th-century building that used to house a blacksmith shop.
Booze, cocktails, and beer flow freely from the taps and bottles, and it even has a champagne garden which makes for a great pick-me-up the morning after a night of hard partying.
Sprocket Rocket
If pedaling a contraption down the street while consuming copious amounts of alcohol, while bar-hopping and drinking even more copious amounts of alcohol sound like your idea of a fun night on the town, then look no further than the Sprocket Rocket party bike and tavern tour.
The party bike is a contraption that features 12 seats situated around a bar that serves alcohol. Each seat has bicycle pedals, and the idea is for everyone to pedal which causes the contraption to move forward. While you and your girlfriends provide the lady-power, a sober driver (a company employee) is behind the wheel and operating the brakes to make sure everyone has a safe time.
Nashville Craft Distillery
No trip to Nashville is complete with a visit and tour of one of the many distilleries that are located in the area. The Nashville Craft Distillery is one of the most popular distillery tours to go on.
Learn how real craft spirits are made in real life, actual working distillery. Multiple daily tours are available, but be sure to bring a designated driver, or have your Uber or Lyft app at the ready when it's time to go.
After all, how often do you get to tour a distillery? It would be a shame not to sample one of the many fine libations they serve at the distillery bar.
The Wildhorse Saloon
Last, but most certainly not least is the Wildhorse Saloon. Any trip to Nashville isn't complete until you have had a few rounds in an authentic honky-tonk country music bar. Nowhere else in America, or the world for that matter, will you find a honky-tonk bar outside of Nashville. Country music is what put Nashville on the map in the 1950's.
Featuring a vast menu of gourmet and down-home Southern Comfort food, there's something for everyone at the Wildhorse. Of course, a bar isn't a bar without alcohol, and the booze list reads like a who's who of favorite hard liquor, wine, and beer. Finally, and most importantly, there's the music.
The Wildhorse Saloon is a 66,000 square foot live music jamboree that can accompany any size bachelorette party. Over 1.5 million people visit the Wildhorse every year, and that number is growing. Be sure to make reservations early as the establishment does get packed during the busy season.
As you can see, there's something for everyone in Nashville.
Music, libations, and entertainment abound. Be sure to make your reservations well in advance as Nashville is a trendy city for both bachelor and bachelorette parties, and that doesn't include the crowds of tourists and locals heading out for a night of fun and dancing.