7+

business days starting at

$7.99

6

business days starting at

$9.99

4-5

business days starting at

$11.99

3

business days starting at

$14.99

2

business days starting at

$16.99

next

business day starting at

$18.99

one

hour starting at

$21.99
Bulk discounts available. Check Pricing for Details
Pricing above is for light garments only, for darks check pricesheet.
How to Design Amazing Family Reunion T-Shirts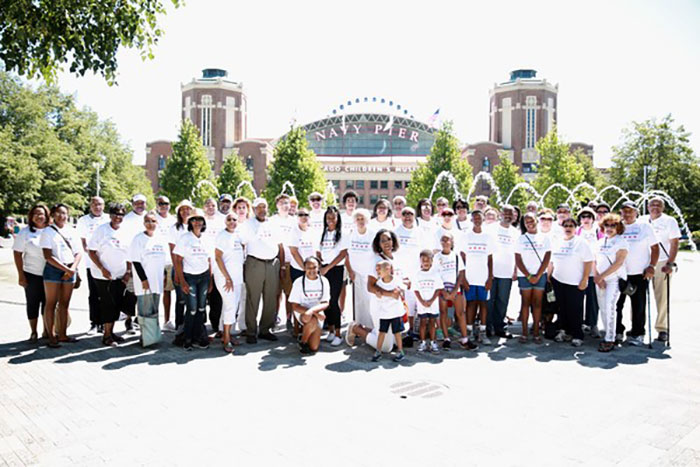 When it comes time for a family reunion, it's tradition for everyone in the party to wear the same shirt. No matter if you're holding the get together at the local park, restaurant, or another entertainment venue, a custom t-shirt that proudly proclaims your family anniversary for all to see is a must-have.
If you haven't given any thought to getting a bunch of t-shirts printed up for your family reunion, think about the hundreds of thousands of pictures that you and every single one of your family members will take.
What do you think would look better?
A group photo with everyone smiling?
Or
A group photo with everyone smiling and wearing the same "Our Family Reunion 2018" t-shirt?
We're going to look at the various slogans and designs you can put on a family reunion t-shirt as well as give you some info and tips on how to make your event one to remember.
What to Do at a Family Reunion?
Most family reunions happen at a family member's house or in an area that can host a large party such as a park or rented hall or restaurant. Aside from mixing and mingling with other attendees, most family reunions find at least half of the participants sitting down somewhere off to the side in small groups.
A family reunion should be just that. As such, here are a few activities you can plan to get the entire family up off the sidelines and into the mix:
If you chose to have the event at a park, here are a few actives that can be played and enjoy by everyone age 2 to 102.
Ping pong toss
Carnival games (barkers included)
Lawn twister
Egg and spoon race
Balloon stomp
Frisbee golf
Hot potato
Sack race
Group Photos
If you're like most families in the U.S., you have relatives scattered throughout the country. Because you don't see everyone that often, now is the time to take as many photos as possible.
Of course, everyone who has a smartphone will be taking a bunch of photos and posting them to Facebook. But these are just amateur photos.
Spend a little extra and hire a professional photographer to document the event. He/she will capture little private moments that would have otherwise gone unnoticed. They can even create an online website and upload the photos for all to see.
A photo booth is another excellent way to memorialize the event. Make sure Grandma and Grandpa get involved in the mix.
Matching T-shirts
Once you have the reunion planned, it's now time to start thinking about the t-shirts. The best way to approach this is to figure out exactly who is coming. Find out what size t-shirt they wear and keep a running tally.
If you opt for a white colored t-shirt, it will behoove you to order a few more than you actually need. Food and grass stains are very common at family reunions, even more so when alcohol is involved.
There's also a good chance that Aunt Flo lost 150 pounds since you last saw her and that XXXL size t-shirt you got for her is way too big. Since custom family reunion t-shirts are so inexpensive, order a few extra of each size (including the infants!)
Custom Family Reunion T-shirt Design and Slogan Ideas
The vast majority of custom family reunion t-shirts have the last name and the word "reunion 2018" along with the city it's being held in printed on the back. E.g., Smith Family Reunion, Miami Florida 2018
Here are some additional ideas you can put on the shirt:
Back to the Reunion (a "Back to the Future" themed t-shirt)
Inspirational slogan
Gospel or Bible passage
Thanks for family
"I can't keep calm. I'm a (insert last name here)"
"We are who we are because they were who they were."
Write the names of every single family member on the shirt
Buy baseball jerseys and have the first name of each person printed on the back
Got roots?
Got family?
It's a family thing!
Love is the main ingredient
Keep calm and reunion on
The circus is in town
A picture of a tree that has each family members name printed on a branch
Have a memorial photo t-shirt printed for relatives who recently passed
The Joneses are invading (insert city of choice and picture of UFO here)
What Kind of Shirt to Get?
Keep in mind the time of year when the reunion will be held. If it's in the fall time and the weather might be a bit on the chilly side, long-sleeved t-shirts or even sweaters would be perfect. But if you are holding your reunion in an area where the weather can change dramatically from day-to-day, it's best to stick to a traditional t-shirt. This way if it gets too hot or too cold people can dress in layers.