7+

business days starting at

$5.99

6

business days starting at

$6.99

4-5

business days starting at

$9.99

3

business days starting at

$12.99

2

business days starting at

$14.99

next

business day starting at

$16.99

one

hour starting at

$19.99
Bulk discounts available. Check Pricing for Details
Pricing above is for light garments only, for darks check pricesheet.
Earth Day at Northwestern University T-shirts in Evanston, IL
Earth Day is celebrated all over the world but it has a special place in Northwestern University's history. The first Earth Day was held in 1970, and NU led the first and one of the biggest events leading up to the holiday. Called "Project Survival," the event was a teach-out about the environmental crisis whose presence was increasing not only in the physical world, but particularly in the minds of its inhabitants as awareness was just starting to spread. The event was held in Technological Institute and gathered over 10,000 students and community members. This year the Environmental Science Department, Environmental Policy and Culture Program, and the McCormick School of Engineering teamed up to throw a big Earth Day celebration in honor of the holiday and the rich connection it has to our university. The event featured sustainable student groups and professors, food, music, and activities, the highlight of which was our Earth Day t-shirts from One Hour Tees that we sold and tie-died at the event. The night was super fun and we hope to continue this as a tradition throughout the years to come.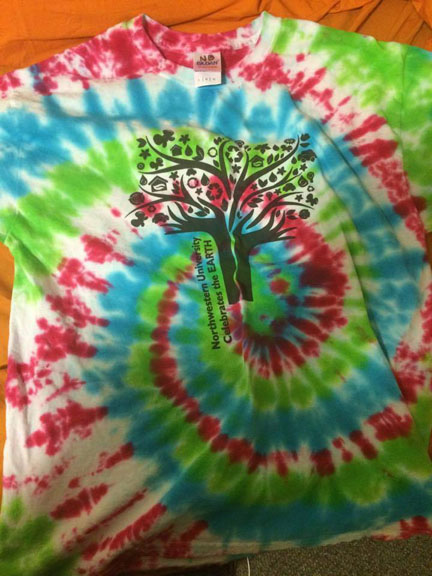 I've ordered from One Hour Tees four times now, for both small and large orders. Their customer service via email is amazing; it is quick and their associates can give feedback on how to make your shirts look better or cheaper, help you find what you are looking for, and give you as many updated quotes as you need. It really helps ensure that what you're ordering is what you're going to get. The prices are also unbeatable if you're trying to minimize cost. The price can increase with quality if you want though. My only criticisms are that calling the phone line is unreliable and usually unsuccessful, and I wish their hours were longer for picking up after work. I will continue to order from One Hour Tees and recommend it all the time.
-Kara Rodby