7+

business days starting at

$5.99

6

business days starting at

$6.99

4-5

business days starting at

$9.99

3

business days starting at

$12.99

2

business days starting at

$14.99

next

business day starting at

$16.99

one

hour starting at

$19.99
Bulk discounts available. Check Pricing for Details
Pricing above is for light garments only, for darks check pricesheet.
How to Accessorize Your T-Shirt (Men's Edition)
A lot of dudes have trouble figuring out what to wear with their t-shirts. Most find jeans, maybe some shoes: good enough. But if you really want to look good, impress the ladies, and feel confident that, no matter where you go, you'll turn some heads, you should consider some accessorizing. Here's 5 great ideas to help your t-shirt look better than you ever imagined.
1. Simple Necklace
So let's not get crazy here, but a great way to have a t-shirt have just that bit more impact is by adding a long, simple necklace to the outfit. Golsing (to the left) does this really well with a necklace that looks like a set of keys. Something that easy looks cool, casual, and adds a bit of flair to any simple Tee. Think of some other ideas that maybe could work. Dog tags of your grandfather's (or your own) can look really cool. Arrow Heads and Shark teeth, although can sometimes look cheesy, on a long enough necklace they can come off really stylish. I would avoid any kind of seashell or hemp necklace. This isn't Burning Man, brah, and you, hopefully, aren't digging the new Dave Matthews Band album so ditch those seashell/hemp necklace ideas.
2. Warm Scarf
If you're in a chillier area, adding a very simple scarf to the equation can look really good without getting too crazy. Especially when it's chilly out but you'd rather not wear too many layers, a scarf can keep your neck and head warm while allowing you ample arm and bicep flexing ability. Although if you're flexing your biceps with a scarf on, you got some other issues at hand. This dude below has the necklace and scarf combo with a denim jacket. This is a good, all-around outfit.
3. Long Sleeve Underneath
If you're thinking to yourself "I'm way too cool for a scarf but I don't want to be a cold baby," then maybe a long sleeve shirt underneath your t-shirt is the way to go. Especially if you can contrast the color to make a really good combo.  The photo on the right I guess is kind of a bad example because that's just one shirt meant to look like two. I say, don't be a weirdo and just use two different shirts. It's best to find similar colors that match. Don't mix patterns and keep it simple. It especially looks cool if you push up the sleeves of the shirt underneath just a little bit. It adds a third level of look: t-shirt, long sleeve, bare skin.
4. Add A Flannel
Again, if it's a bit chilly- or not, and you want to spice up a regular tee, using a flannel is a great way to say "I knew what grunge was" without having to move to Seattle. Any color can typically work but try to match just a little bit. A good way to do that is to pick one of the secondary colors of the flannel as the color of the t-shirt. That way, the shirt doesn't blend too much and gives a well-layered look. It helps if you're not smiling like this idiot to the left, as well, you have a boy's haircut. But you get the idea. It will keep you warm and switch a regular t-shirt into something just a little cooler.
5. Belt or Suspenders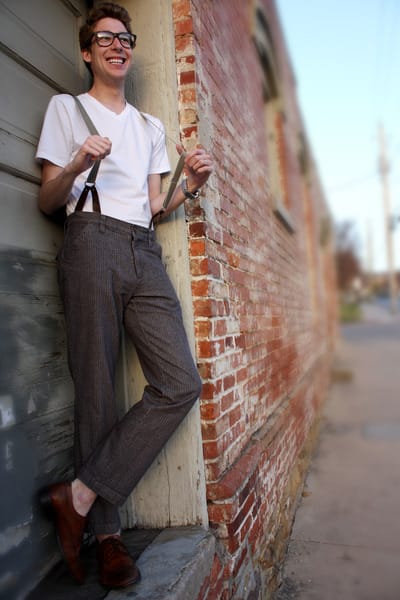 Last, never under-estimate the look of a really good leather belt or some classic suspenders. Although suspenders may be a little too hipster for most, no one can go wrong with a simple belt. A lightly tanned leather or dark black will accent many colors without looking too over the top or sticking out more than it needs to. If you are planning to use a belt to accessorize, try and pick t-shirts that are slightly shorter at the bottom so people can actually see the belt. If you're using suspenders, wear pants that actually need suspenders (not jeans, not pants with belt loops in them).
There you have it, five ways to accessorize your t-shirt to give it just any extra kick of awesome. Don't forget the best way to add some flair is by creating your own design on the t-shirt. Your name, logo, or a simple drawing can give you an original look no one will steal.