7+

business days starting at

$7.99

6

business days starting at

$9.99

4-5

business days starting at

$11.99

3

business days starting at

$14.99

2

business days starting at

$16.99

next

business day starting at

$18.99

one

hour starting at

$21.99
Bulk discounts available. Check Pricing for Details
Pricing above is for light garments only, for darks check pricesheet.
Blog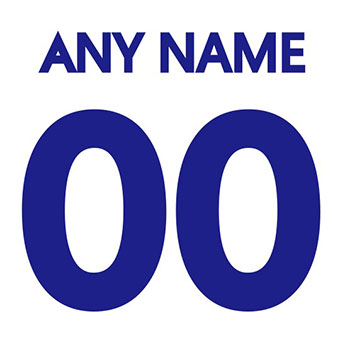 Do you happen to be part of a ragtag group of hockey players without talent, a coach, or even proper gear? Or on the other side of the fence—maybe you're the team with ridiculously talented players (probably from Iceland), obnoxiously evil, always beating the underdogs?
Whatever your team's story may be, there's one thing you both have in common. Nope. It's not Adam Banks. It's the need for a seriously awesome uniform.
As any sports team can testify, having numbered jerseys with the player's name is a must. I mean, are you even a real team without them? What else really binds a group of passionate sports lovers together like putting on those sweet, professional looking jerseys for the first time? That's right. Nothing!
At OneHourTees, were happy to help out both the underdogs, the evil champions, and everyone in-between. How do we appeal to such a range of characters? By offering only the best high-quality custom vinyl lettering and numbering for your uniforms.
What is Vinyl Lettering & Numbering?
Essentially, vinyl lettering and numbering is a heat-transfer printing process in which your desired characters are cut out from a roll of colored vinyl and applied to your chosen apparel. It's a fantastic, easy, and affordable way to create amazing, professional quality jerseys for your team or event in a flash.
Unlike other printing methods, each individual design element is cut-out from a large piece of colored vinyl. When heated, this vinyl becomes incredibly adhesive. Once pressure is applied, the vinyl will bind permanently to whatever apparel it's being pressed onto.
Vinyl is a slower, more labor-intensive process so it's ideal for smaller orders as the cost will significantly rise with the quantity numbers.
How Does It Work?
The process to add custom vinyl lettering, whether it be a team name, player name, or numbering, is quite straight-forward with the right equipment. For high-quality vinyl printing, the right equipment means some heavy duty machinery.
At OneHourTees, we only use the finest, top-of-the-line materials and mechanisms in the industry. Our customers deserve no less than the best looking uniforms on the field, on the ice, or after the game at Dairy Queen.
The vinyl printing process starts by creating the lettering, numbers or other design on a computer. We then print and cut it out from a sheet of colored vinyl. Next, we image reverse the design as the characters will be placed face down on the jersey. This will ultimately cause the image to re-reverse once actually applied to the shirt.
Then it's time for the application. Our professional printers will precisely line up the design so it's nice and straight on the shirt itself. A heat-resistant cover is placed over the vinyl design to keep it from burning or melting.
Finally, the heat is on—literally—as we apply a super high-powered iron (definitely not the ones you'll find at home) to heat up the bottom of the vinyl to the optimal temperature. With a massive amount of pressure, we press the heated vinyl onto the shirt and adhere it permanently to the fabric.
Now, we wouldn't blame you for thinking "Aren't there are at-home products that'll let me do the same thing for less using my dinky little iron?" Sure, but those products are often low quality and tend to peel very quickly.
For vinyl lettering to adhere correctly, it needs an even amount of high heat, and a massive amount of pressure that even Arnold Schwarzenegger couldn't apply alone. We're talking hundred of pounds of pressure, and though these at-home versions might last for a game or two, ours will last without fading or cracking for years.
OneHourTees guarantees the best custom lettering on the market. Our experienced technicians understand the importance of consistency when applying vinyl lettering. We also understand that if you really want to beat those Icelanders, you can't have them laughing at your peeling, cracking at-home vinyl lettering. You're the real deal now.
Why Choose Vinyl Lettering vs. DTG or Screen Printing?
So why should you choose vinyl lettering over our other printing processes like direct to garment (DTG) or screen printing?
Though all of our printing techniques will provide high-quality custom designs made to last for years, they do each have their pros and cons. With vinyl printing, because each letter or number must be cut out from a single color roll and placed on the tee individually, 1–2 colors max are recommended, as are simpler designs.
And since the characters are already all non-reusable custom pieces, it doesn't make a difference if each letter or number is different, or they're all the same. The price won't change because the actual work per shirt doesn't either.
However, for methods like screen printing, significant setup time must be put into every single screen—which is how the ink is distributed onto the shirt. Once created, a screen can also be reused countless times. Because of this, printers typically require a minimum order of shirts to justify the use of each screen, and not spend a whole day screen printing the numbers 1–30 when we could do it in an hour with vinyl.
If customization isn't a priority, but a more intricate design is, then screen printing might be the right decision. Or if speed is what you need, check out our DTG printing process. You are more limited when it comes to the color of your t-shirt and the placement of your design, but like our name suggests, with DTG you can get have slick set of jerseys ready to pick-up in less than an hour from our Chicago store.
Long story short—vinyl lettering is perfect for placing custom letters or numbers on your team's jerseys. Want your team name proudly displayed on the front with each player's name and number on the back? That's perfect for vinyl! How about a multi-colored image of Coach Bombay's face? Better look into DTG or screen printing.
What T-Shirts Work Best for Vinyl Lettering?
Though it never hurts to contact our expert printers to ensure you make the perfect uniform decision, the far majority of our shirts work impeccably well with custom vinyl lettering. If you'd like some guidance towards the right direction, some of our most popular shirts used with this method include:
These are only a few of the hundreds of t-shirt options we offer. Explore what else we have on our products page.
Ordering Your Vinyl Lettering
Prove your players are ready to go against the big guys by ordering custom vinyl lettering and numbering from OneHourTees. Perfect for everything from casual tees for your softball office crew, to the highest quality athletic wear for the pros, trust our vinyl designs to last for years— no matter how much action you put it through.
Want to learn more about creating custom high-quality vinyl t-shirt lettering or numbering? Don't hesitate to contact us at OneHourTees. Give us a call at 773-687-0520 or get a free quote online right here. We're committed to working with you and your team to find the best design for your shirts. Hell, we'll even come to your game and cheer you on. We love a good game.