7+

business days starting at

$7.99

6

business days starting at

$9.99

4-5

business days starting at

$11.99

3

business days starting at

$14.99

2

business days starting at

$16.99

next

business day starting at

$18.99

one

hour starting at

$21.99
Bulk discounts available. Check Pricing for Details
Pricing above is for light garments only, for darks check pricesheet.
Blog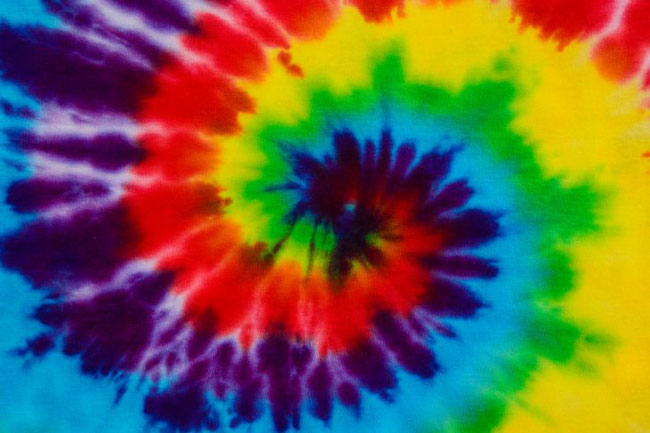 Love to smoke that dank weed? Is no day complete without listening to the Grateful Dead? Or just love that crazy, psychedelic vibe? Then you can't keep living life without knowing how to tie dye your very own custom t-shirts.
Lucky for you, even if you're high as a kite while getting ready for Burning Man, tie dying clothes is ridiculously simple. Show off your unapologetic hippie pride by transforming your boring, mainstream apparel into a groovy work of art.
Here's our super easy step-by-step tie dye guide. In no time at all, you'll go from boring Joe Schmo to looking right at home behind of wheel of any Phish-following VW bus.
What T-Shirt Should I to Choose?
Before we dive into the process itself, you're going to want to use the right kind of t-shirt to guarantee the best looking tie dye results possible. Not just any shirt will do.
As you can imagine, white t-shirts are often the way to go. Nothing else will help the individual dye colors stand out better. However, some lightly colored shirts can work well for more unique look, but do keep it mind how the dye will appear against the background. Anything too dark will more or less be pointless.
We also recommend using 100% cotton t-shirts over any other fabrics. Cotton is great at sucking up those colors and holding them in, even after multiple washes. Choosing non-cotton apparel could risk the color fading quickly, or even not sticking at all.
Also, this should go without saying, but tie dying IS permanent. Don't choose a shirt that you might regret being tie dyed in the future.
What You Need to Tie Dye
Table
Tarp, plastic sheeting or garbage bags
Soapy water
Paper towels
Cotton t-shirts
One bucket for every color
Soda ash (a dye fixer)
Squirt bottle
Rubber or plastic gloves
Rubber bands
Marbles, coins and/or strings
Sealable Plastic Bags
Step One: Pre-Wash Your Shirt
Especially if the shirt isn't brand-new, give it a good wash in hot water before dyeing. This ensures that any potential oils, dirts, or other chemicals that may resist the dye are completely washed out.
Step Two: Set Up Your Space
Choose a preferably outdoor area, or an indoor space that's totally covered in plastic or tarps. This is also a good time to put on ruinable clothes or a smock covering everything underneath. Remember, we're working with actual dyes meaning they will stain anything stainable extremely easily.
Set up your dyeing area with the tarp, plastic sheeting, or garbage bags to completely cover the table you'll be working on.
Place the bucket of soapy water and paper towels nearby. You'll want this close so you can easily wash your hands or clean up any spills before the dye has a chance to set in.
Step Three: Choose Your Technique & Tie Up Your Shirt
To create different tie dye designs, use one of the many different dyeing techniques out there. Essentially, you'll be using the rubber bands, string, marbles and coins to create these designs. By twisting the fabrics into different shapes and patterns, the ink will seep into the crevices creating textures and color effects.
By pinching the fabric around certain areas and tying the rubber band around it—or adding string, marbles or coins to create even more fun effects—you can design a tie dye masterpiece.
There are all kinds of different ways to do this, but here are three popular techniques to get you started:
Spiral
Starting in the middle of the tee, twist the shirt until it's tightly wrapped up into dense, a spiral shape. Place 3-4 rubber bands around the wound-up shirt so they create 6–8 pie shapes of equal sizes. Add a different ink color onto each "slice" of the pie. Do this on both sides ensuring each side of the "slice" is the same dye color.
Crumple
Start at one end of your flattened shirt and slowly scrunch up the fabric. Messier is better, but try to keep it more fat pancake-shaped—not ball-shaped. A balled up shirt makes it harder for the ink to reach the inner areas of the shirt.
Add one color of ink on one side of the shirt. Make sure not to overdo it or risk losing that tie dye texture. Flip the shirt and repeat with the same or a different color.
Bullseye
Pinch your shirt where you want the center of the bullseye to be and pull upwards. Place a rubber band about 3–4 inches below where you're pinching. A few inches below that, add another rubber band. Continue until you run out of shirt and basically make a long, fabric tube. Within each section, add a different ink color.
Don't like rules? That's cool too! Sometimes the best designs happen just by randomly twisting, curling, or going with your gut. Sure, it could turn out like a mess, but that's part of the fun, right?
Step Four: Prepare the Shirt & Dyes
Safety first! Tie dying your hands might sound cool, but any contact of skin with chemicals—even if non-toxic—is never a good idea. Now is the time to put on those plastic or rubber gloves.
To help the dye adhere better to your shirts, soak the tied up tees in a mixture of soda ash and water for about 20 minutes before adding colors. Though you should follow the specific instructions on the soda ash, the ratio is usually about ½ cup soda ash to every gallon of water.
While the shirts are soaking, start mixing together the dyes in their separate buckets.
Prepare the dyes according to the directions on each bottle.
Step Five: Start Dying
Now it's time for the super fun part. Dunk sections of your shirt in the different dyes. Try really hard to avoid mixing dye colors together in the buckets and on the shirt itself. When too many dyes mix, the colors seriously starts to look like poop. Definitely not groovy.
For extra precision, use squirt bottles to apply some of the dyes. Some dye kits come with them already, but if not, grab some on your own. This is a great way add dye more precisely than just dunking.
PROTIP: If you want a shirt with lots of white space, make sure the dye doesn't drip too far into the crevices made when tying it up. On the flip side, if you want fewer white spaces, get the dye into as many crevices as possible. Do be careful not to oversaturate the shirt or risk losing texture—and creating that dreaded poop color.
Step Six: Let it Be
Once dry, allow any excess dye drip off the fabric. We know you're beyond tempted to check out your creation—but seriously—DO NOT UNWRAP THAT SHIRT!
Instead, exercise some patience, put on Jefferson Airplane's 1967 classic Surrealistic Pillow, seal up your rolled up shirt into plastic bag, and let it sit for about 8 hours, or overnight. Your work for now is done.
Step Seven: Rinse It Out
Finally! It's time to see your gorgeous, new creation.
While running the shirt under warm water, fully rinse it while untying. After it's been completely unfurled, run it under cool water. Once the water runs clear, wring the shirt out and take a good look at what you made. Pretty cool, huh?
Step Eight: Wash It & Let It Dry
You're almost there. Stick your new tie dye shirt into the washing machine and give it a good wash on hot with a bit of soap and BE SURE TO WASH IT ALONE!
If you wash it with anything else, expect that those other clothes will get dyed. After that first wash though, you should be good to clean it with other colored apparel items.
The last step is to let the shirt completely air dry.
Step Nine: Look Totally AWESOME!
That's all there is to it. How easy and super fun was that? Now go find some old tees, or even get some custom printed for an event, and start tie dyeing every shirt you can like the expert you are.