7+

business days starting at

$5.99

6

business days starting at

$6.99

4-5

business days starting at

$9.99

3

business days starting at

$12.99

2

business days starting at

$14.99

next

business day starting at

$16.99

one

hour starting at

$19.99
Bulk discounts available. Check Pricing for Details
Pricing above is for light garments only, for darks check pricesheet.
Race Judicata 2016 – Team Cooney & Conway T-shirts in Chicago, IL
Every year the law firm I work for, Cooney & Conway, sponsors their employee's participation in the 5k Race Judicata. The race profits benefit Chicago Volunteer Legal Services, an organizations providing free legal services to the people of Chicago. This year the firm was also generous enough to allow us to design and have made t-shirts for the participants. We had these shirts made so that our firm's participants in Race Judicata would be unified and to also to further acknowledge Cooney & Conway's support of the event. This year's race took place on the evening September 15th and had almost 3500 participants! Of 21 teams in our division, our team's females had the 4th best finishing times. Overall our runners were proud to represent C&C in these awesome shirts for such a great cause!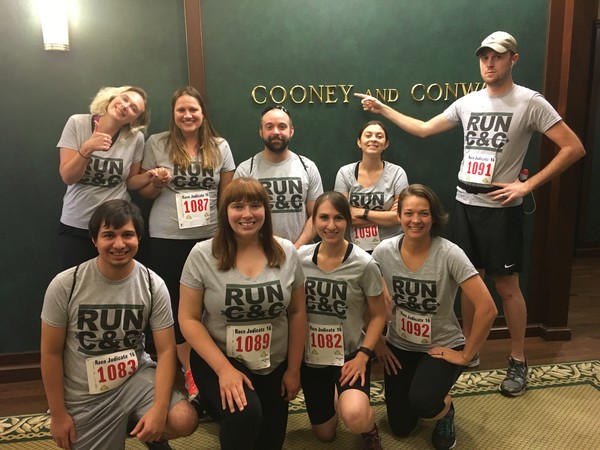 OneHourTees was incredibly helpful when our company card was unfortunately declined on multiple occasions due to merchants code issues. Karima was wonderful in getting the shirts to us in the time desired despite the delays caused by the credit card without increasing the price. I would use OneHourTees again for any/all custom shirts orders in the future. The products turned out great!!
-Kelsey Overberg