CUSTOM ACCESSORIES IN CHICAGO
Why stop at traditional clothing? At One Hour Tees, we'd love to put your custom artwork on anything we can possibly print on. From fashionable custom hats, to handy totes and even quirky items like baby bibs and aprons, if you want to print your custom design on something, we'd love to make it a reality.
Imagine your team name on custom shoelaces, or your company logo on high-quality custom backpacks that customers and employees can take anywhere. Putting your design isn't only great for adding an air of professionalism—it's also fantastic advertising! Check out our wide assortment of accessories below and contact our expert team to help you create the perfect design that'll to take your look to the next level.
OUR CUSTOM ACCESSORY BRANDS
One Hour Tees supplies personalized accessories from more than a dozen of the highest-quality brands in the industry. With a plethora of options, expect to find just the right product and brand for you. Some of our most reputable brands include:
American Apparel
Puma
MegaCap
Towels Plus
Rabbit Skins
Sportsman
Gildan
Independent Trading
All of our brands offer unique, well-made items in different colors, styles, fabrics, and more to fit every budget and custom design desire. If we don't trust the brand, we won't offer them to our customers. Talk to us for additional information about any brand.
HOW DO WE PRINT OUR CUSTOM ACCESSORIES
Since personalized accessories vary greatly from each other, we strongly suggest discussing your design ideas with our design team. Different printing techniques will work better (or worse) depending on the specific product, size, budget, quantity, turnaround time, etc.
No matter your end goal, we will find the perfect printing solution for your needs. From small quantities of totes to thousands of knit custom beanies, trust the experts at One Hour Tees to work by your side in developing an amazing custom printed design for whatever your needs may be.
DTG Printing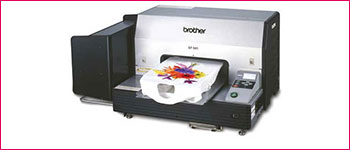 Need custom printed accessories as soon as humanly possible? We got it! With our Direct to Garment or DTG printing technology, we can create a stunningly professional item with your custom artwork in as little as an hour.
Though not every accessory will lend itself well to DTG, there are many options to suit your last-minute needs. And don't think a rush job indicates a low quality. You'll be amazed at how good your artwork will look. There is also no order minimum making this also a great choice for small quantities.
Screen Printing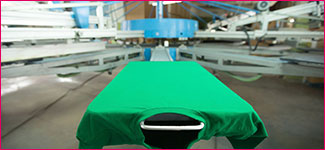 Screen printing is the ultimate in ink printing quality. This labor-intensive, skilled artform will take your design to the next level. Expect your colors to look just as sharp years from now as it did on day one, no matter what you put your stuff through.
Our durable screen printing ink works great on most of our accessory items, though talk to us about your specific ideas. As setting up a design takes some time, we will need at least 24-hours to print. The minimum order is 25.
Embroidery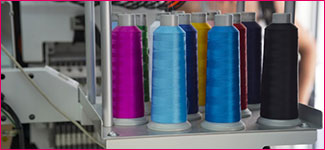 If you're looking to elevate your chosen custom accessory to the next level of class, get it embroidered! Many of our great accessories are ideal canvases for our professional embroidery machines.
We use thousands of bright threads to turn your art into a gorgeous embroidered design that's sure to add extra pizzazz to any item. The minimum order is 25.
Heat Transfers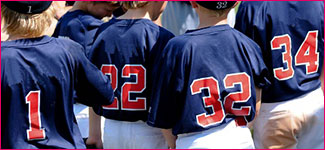 The heat transfer printing method is ideal for printing custom information on mesh or polyester-based items. It's a great, affordable option for printing individual names and numbers on duffel bags or backpacks for traveling sports teams.
Unsure if heat transfer printing is right for you? Contact us and we'll be at your side to choose the perfect printing options for your custom printed accessories and apparel. The minimum order is 25.
Get A Custom Quote Now
WHAT OUR CLIENTS SAY
"Emily helped me fix my logo right there in the store. The service was excellent. Prices were awesome. I'm SUPER PLEASED with the quality of my shirts and sweatshirts!!!
We will be back!"
"Fast and professional service. Both kids and parents love the quality of the t-shirts. More often than not, t-shirts are ready before selected pick up date. We are regular clients and will be ordering more!!"
"Even though I don't live in Chicago, I always order from One Hour Tees. They're fast, reliable & cost-effective and I just enjoy interacting with them. I always get a great product, so I'm a happy customer!"
See All Reviews
WE DO MORE THAN JUST CUSTOM ACCESSORIES
One Hour Tees offers so much more than just designing and printing amazing custom accessories. We have a warehouse of printable options including shirts, polos, sweats, outerwear, and more. If you can wear it, we can print on it.
Stop by our Chicago location today or give us a call at 773-687-0520 to learn more about making your own customized garment. We also serve the New York, Los Angeles, Houston, Philadelphia, Austin, San Francisco, Seattle, St Louis, Miami, Milwaukee, Dallas, Boston, and Atlanta areas.
Contact Us