CUSTOM SPORT UNIFORM IN CHICAGO
Nothing makes a team really come together more than having some great looking uniforms. At One Hour Tees, we specialize in creating amazing, professional, personalized, custom uniforms in Chicago that'll look straight out of the major leagues. Our catalog of athletic wear includes custom jersey shirts, t-shirts, sweatshirts, jackets and more, all designed to be durable and long-lasting through the rigors of the field or court. Plus, to create custom designs you'll love, we use both personalized artwork and available art (such as clip art). There are lots of possibilities for designing the right uniforms for your team.
Whatever your custom uniform goals may be, from unifying your company's brand to coaching Little League, count on our expert design team to work closely with yours. Need 30 youth-sized custom soccer jerseys by tonight's first game? No problem. How about 200 embroidered employee uniforms for your restaurant opening next month? Consider it done. We pride ourselves in working with our clients to get all of your apparel needs completed beyond all expectations. Make your players stand out with sports apparel that can go the distance!
OUR CUSTOM UNIFORM BRANDS
One Hour Tees supplies four incredible brands with a reputation for making performance-quality clothing that looks great and stands up to wear and tear. Each brand also has a large variety of colors and styles so you can create the perfect uniform for whatever your needs may be. Our uniform apparel brands are:
Augusta Sportswear
Hanes
J. America
Jerzees
Our brands offer many custom design options that will fit any budget. If we don't trust the brand, we won't carry them. For additional information about any brand and how to design your own sports shirt in any apparel style, contact the One Hour Tees team.
HOW DO WE PRINT OUR CUSTOM UNIFORMS
We are committed to printing your custom artwork onto your chosen uniform at only the highest of quality. We offer several top-level printing methods and techniques and look forward to working with you to determine which method will best suit your needs.
Currently, One Hour Tees offers four different methods of printing—each with its own pros and cons. By discussing your budget, timeline, design, quantity, preferred uniform style, and more, our expert team will help you narrow down the right printing option.
DTG Printing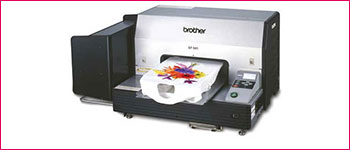 Is tonight the big baseball game and you totally forgot to order custom team jerseys? Relax! We love rush jobs. Using our Direct to Garment or DTG printing technology, we can create an incredible, high-quality uniform in as little as an hour.
Many uniform fabrics lend themselves amazingly well to DTG printing. To ensure the best possible final result though, talk to our team and we'll make sure you pick the right apparel that will truly let your custom design shine. The other team will think you've been working on your look for months. DTG printing requires no minimum order, so it's great for small quantities.
Screen Printing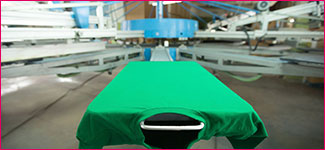 When it comes to a high-quality ink printing result, it's hard to beat screen printing. Creating incredible designs with screen printing is a skilled artform guaranteed to elevate your design. Expect the lines to be crisper, colors to be brighter, and the design itself to last for decades, no matter what you put it through.
Screen printing is a wonderful printing choice for many of our uniform style options. However, we will need at least 24-hours to print your artwork. The minimum order is 25.
Embroidery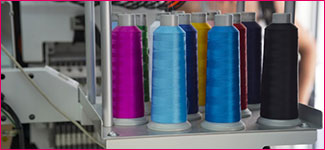 Aiming to create an extra professional look for your team or company uniforms? Then embroidery might be the perfect option for you that will look great on many of our apparel styles. Our design team will take your custom artwork and replicate it on your chosen uniform using countless bright, colorful threads. Expect your gorgeous new uniform to last for years to come.
We require at least 24-hours to embroider your uniforms. The minimum order is 25.
Heat Transfers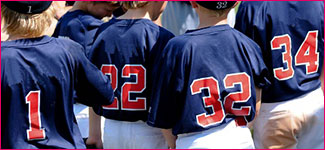 The heat transfer printing method is ideal for printing custom information on mesh or polyester-based items making it a popular printing choice for many custom sport shirts. This also makes it a great option for printing individual names and numbers on your uniforms. The minimum order is 25.
Get A Custom Quote Now
WHAT OUR CLIENTS SAY
"Emily helped me fix my logo right there in the store. The service was excellent. Prices were awesome. I'm SUPER PLEASED with the quality of my shirts and sweatshirts!!!
We will be back!"
"Fast and professional service. Both kids and parents love the quality of the t-shirts. More often than not, t-shirts are ready before selected pick up date. We are regular clients and will be ordering more!!"
"Even though I don't live in Chicago, I always order from One Hour Tees. They're fast, reliable & cost-effective and I just enjoy interacting with them. I always get a great product, so I'm a happy customer!"
See All Reviews
WE DO MORE THAN JUST CUSTOM UNIFORMS
One Hour Tees offers so much more than just designing and printing amazing custom uniforms. We have a warehouse of printable options including shirts, polos, sweats, outerwear, accessories and more. If you can wear it, we can print on it.
Stop by our Chicago location today or give us a call at 773-687-0520 to learn more about pricing or how to make your own custom basketball jerseys, custom volleyball jerseys or other uniforms. We also serve the New York, Los Angeles, Houston, Philadelphia, Austin, San Francisco, Seattle, St Louis, Miami, Milwaukee, Dallas, Boston, and Atlanta areas.
Contact Us